HUD Investments in Affordable Housing Supported 500,000 Jobs in 2015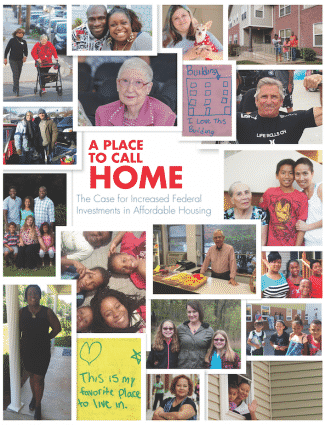 The Case for Increased Federal HUD Investments in Affordable Housing in NJ
A Place to Call Home: The Case for Increased Federal Investments in Affordable Housing has been released by the Campaign for Housing and Community Development Funding (CHCDF) and the National Low Income Housing Coalition (NLIHC.)
This report's research shows how investments in affordable housing boosts economic mobility, reduce poverty and homelessness, improve health outcomes, and strengthen the economy.
The report includes more than 100 success stories of people and communities, including four from New Jersey that have been positively impacted by federal affordable housing investments funded through the U.S. Departments of Housing and Urban Development (HUD) and Agriculture (USDA).
According to the report, investing in affordable housing strengthens the economy and supports job creation and retention. The report estimates that more than 500,000 jobs were supported through HUD investments in 2015 alone.
The four New Jersey success stories include:
Anthony, who moved into Integrity House's permanent supportive housing program in Newark, in NJ's 8th congressional district. The permanent supportive housing was funded through Community Development Block Grant and HOME Investment Partnerships (HOME.)
Joannne, a single mother with two young children, who receives rental assistance through Family Promise Union County, in Elizabeth, also in NJ's 8th congressional district.
Egg Harbor Housing Project, in NJ's 2nd congressional district, which used the Section 811 program to create 10 affordable single family homes.
Jenai and Lily, both single mothers, who live in Mercer County, in NJ's 12th congressional district. HomeFront provides both families with permanent housing funded through the HOME program.
Margaret Upchurch, Barnegat, New Jersey: Margaret experienced homelessness three times between 2010 and 2016. Says Margaret, "Fortunately, since September 2016, I started to receive housing assistance through HUD's Community Development Block Grant- Disaster Recovery program that has helped families recover from being displaced from their homes by Hurricane Sandy. My assistance is set to expire in August 2017."
Michelle Price, Seaside Heights, New Jersey: Michelle shares her story of battling addiction without the help of family and friends. Says Michelle, "Luckily, someone told me about Special Response and they helped me so much. I found a place in Seaside Heights, a small one-bedroom apartment. For two years, Special Response helped pay my rent. Within that time, I was able to find a part-time job, which turned into a full-time job. I was able to become self-sufficient, saving money and paying bills. My son now has a home to go to, somewhere stable and safe! I've made friends. Life has been good, and I am so unbelievably thankful and appreciative for the help I received!"
The report calls for Congress to lift the spending caps, while maintaining funding parity between defense and non-defense programs, and to ensure the highest level of funding possible for affordable housing programs.
NLIHC coordinates and facilitates Campaign for Housing and Community Development Funding (CHCDF.) This report was prepared in response to the threat of significant budget cuts to HUD/USDA programs in Fiscal Year 2018.
"There is an overwhelming need for affordable homes in every state and congressional district," said Elayne Weiss, NLIHC senior policy analyst and principal author of this report. "Cutting investments in affordable housing will only make it harder for people with the greatest needs, including low income seniors, people with disabilities, veterans, and working families with children, to have an affordable and accessible place to call home."
Diane Yentel, president and CEO of NLIHC, urges Congress to consider this report and the millions of lives in their districts that have been positively impacted by federal investments in critical programs before making any decisions about the upcoming budget.
"While we need to address our nation's debt over the long-term, we cannot and should not balance the budget by reducing necessary and important investments that serve people with the greatest needs." Ms. Yentel said. "Reducing federal investments in affordable housing will have a negative domino effect throughout many communities and the economy."
NLIHC has put together a toolkit to help local providers and advocates reach out to their lawmakers to discuss the importance of affordable housing and the need for increased federal investments.
Tight spending caps, as well as potentially more cuts proposed by the Trump administration, will devastate affordable housing programs. The U.S. Dept. of Housing and Urban Development (HUD) could see a potential 15% cut in funding.
A Place to Call Home Full Report
Subscribe to Our Newsletter and Receive News You Can Use Every Morning
Subscribe to Our Weekly Newsletter and Receive News You Can Use Every Friday