Bergen County First in Nation to End Chronic Homelessness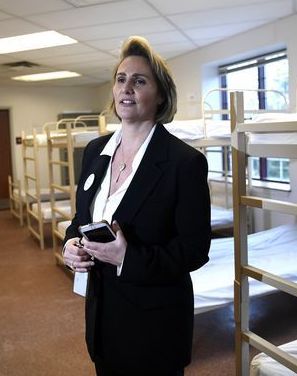 Success in Ending Chronic Homelessness Shows the Success of Federal Investment Partnership
On March 28, 2017, Bergen County and federal officials announced that it is the first county in the country to end chronic homelessness.
County and federal officials made this announcement at the Bergen County Housing, Health and Human Services Center.
"By securing safe, permanent housing for individuals who were chronically homeless, we're providing these most vulnerable residents with the stability they need to address other challenges that have limited their ability to prosper in our communities." said County Executive James J. Tedesco.
"In January of 2015, the county counted 28 persons experiencing chronic homelessness. A year later that number was reduced to 10. Since May 2016, the county has counted less than three people that were chronically homeless."
"Not only is this an accomplishment for this particular community, this is a proof point for us in the federal government and across the nation, for our partners at community solutions, for our partners and other federal agencies. It's the proof point to show that we can actually end chronic homelessness across this country," said HUD Deputy Assistant Secretary for Special Needs Ann Oliva.
Bergen County is still working to end family homelessness and youth homelessness. But in August 2017, the county announced that it was the first county in New Jersey to end veterans homelessness.
All this is being accomplished in one of the wealthiest counties in the country.
The Bergen County Housing, Health and Human Services Center has been "integral" in ending chronic homelessness in the county. The County invested $11 million in building the facility in 2009. It is a "one-stop" center that provides shelter, health and behavioral services and access to housing assistance.
"Tedesco said the housing first approach saves taxpayers money by interrupting a costly cycle of emergency room, hospital, detox, and jail visits," reported NJ.Com.
"Bergen County's achievement helps demonstrate the strategies necessary for success, including coordinated and proactive outreach and engagement efforts and quick connections to housing," said Matthew Doherty, USICH's Executive Director. "These are strategies that we must be able to replicate and adapt at the scale necessary in communities of all sizes in order to end chronic homelessness everywhere in our country."
NJTV also interviewed Julia Orlando, Director of Bergen County Housing, Health and Human Services Center about what led to the County's success in ending chronic homelessness.
"We triaged our by-name list one person at a time until we had no one left on that list. And then we started a new list so that we could house people before anyone could age into chronic homelessness again," said Orlando.
Subscribe to Our Newsletter and Receive News You Can Use Every Morning
Subscribe to Our Weekly Newsletter and Receive News You Can Use Every Friday