What is at Stake for NJ with Proposed Federal Budget Cuts?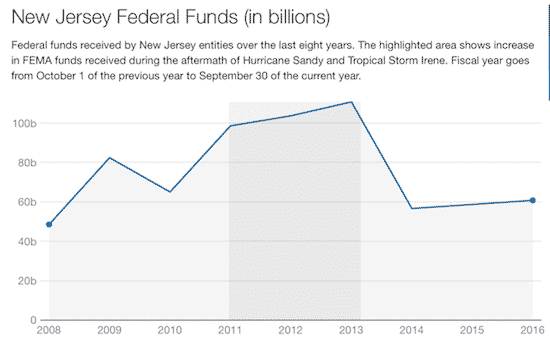 NJ Received $60B in Federal Funds in 2016 How Much Will Be Left After Federal Budget Cuts
On April 5, 2017, NJ Advance Media reported "Can you guess which NJ counties get the most money from Washington?"
Bergen County, which has the largest population in New Jersey received the most federal funding out of all the counties – $2.91 billion.
In March 2017, President Trump released his proposed federal budget also known as the "skinny budget." The budget outlines the changes and cuts that the President would like to make to how the federal government spends funding. We have covered the impact – How Trump's Budget Would Impact Cities' Poorest Residents – on NJ.
In broad strokes, the proposed budget increases defense spending while at the same time cutting funding for housing and health services among other non-defense spending.
But this federal budget cuts are not set in stone and is subject to change before the budget is finalized which could be as early as "the first part of May" according to the Office of Management and Budget Director Mick Mulvaney.
NJ Advance Media researched the potential impact of these proposed cuts in New Jersey. It did this by looking back at how federal funding was distributed in New Jersey October 2015 to September 2016.
"The data comes from USASpending.gov, a website maintained by the Office of Management and Budget, that was launched in 2007 to keep track of contracts, grants, loans and other types of financial assistance disbursed by federal agencies."
NJ Advance Media reports, "During the fiscal year of 2016, New Jersey received $60 billion in federal funds. It's a relatively modest amount compared to neighboring New York, which got $158 billion, and Pennsylvania, which took in $193 billion. It's a significant decrease from 2013, when the amount of federal funds to New Jersey peaked at $111 billion, due in large part to FEMA payments after Hurricane Sandy and Tropical Storm Irene."
"About $36 billion, or 60 percent of what New Jersey received last fiscal year, was what the federal government calls "Other Financial Assistance."
These funds are primarily direct payments to individuals by way of Medicare, Medicaid and Social Security. They make up the bulk of this spending, which is why the top awarding agencies in New Jersey for fiscal year 2016 were the Social Security Administration and the Department of Health and Human Services.
"Other Financial Assistance" funds also include payments to the U.S. Department of Housing and Urban Development for subsidized Section 8 housing."
New Jersey receives its Medicaid funding through grant funding. The New Jersey Department of Human Services received $10 billion last year – mostly in Medicaid funding.
Housing related highlights of the articles county by county breakdown of funding include:
Hunterdon county received a total of $451 million in federal funding including funding for Section 8 Housing Vouchers for the Hunterdon Housing Authority.
Atlantic, Cape May, Somerset counties received Section 8 Housing Choice Vouchers
Cumberland County also received Section 8 Housing Choice Vouchers and "The Community Health Care Center in Bridgeton received about $8 million for expanded services as a "Health Center Cluster" under the Affordable Care Act."
Hudson County – One of the biggest recipients of federal funds in Hudson was the Jersey City Housing Authority– "New Jersey's second largest housing authority. The housing authority received about $52 million total from the Department of Housing and Urban Development in 2016 – a majority which went Section 8 housing assistance payments and vouchers. Many Hudson County cities were also recipients of community block grants which are used mostly to develop public infrastructure in low- and moderate-income neighborhoods. Trump has proposed to cut HUD's community block grant program, which is currently being funded at $3 billion."
"In Passaic county, the Passaic and Paterson housing authorities received a combined $45 million in federal funds from HUD … The city of Paterson also received about $3 million in HUD money, mostly as community block grants, which it stands to lose under the Trump budget."
In Union County, "the Elizabeth and Plainfield Housing Authorities received millions of dollars for their Section 8 public housing payments and vouchers."
In Morris County, "About $3.2 million dollars from the Department of Health and Human Services went to Zufall Health Center as part of the Affordable Care Act for local health care outreach."
In Camden, "Camden Housing Authority also received about $16 million in HUD funds for Section 8 housing vouchers."
In Monmouth County", Housing authorities in Asbury Park and Neptune also brought in a couple of millions of HUD funds."
In Newark, "Newark Housing Authority, the largest housing authority in the state, received about $73 million in HUD funds in 2016. The City of Newark also received about $21 million with most of it allocated to community block grants and Housing Opportunities for Persons with AIDS."
In Ocean County, The Lakewood Housing Authority and the Lakewood Township Rental Assistance Program brought in a combined $28 million in HUD funds for housing vouchers … The Ocean Health Initiatives also received about $2 million as part of the Affordable Care Act's "Health Center Cluster" grant program."
The Bergen County Housing Authority received over $46 million – mostly for HUD Section 8 Housing choice vouchers.
Federal Budget Cuts to HUD funding and threats to the rollback of expanded Medicaid funding could have devastating results in many New Jersey Counties. That is why we must – Use Recess Meetings With Members of Congress to Talk About Affordable Housing – and minimize federal budget cuts.
Subscribe to Our Newsletter and Receive News You Can Use Every Morning
Subscribe to Our Weekly Newsletter and Receive News You Can Use Every Friday