Seton Hall University Law School to Host May 16 The Color of Law Public Policy Forum
Professor Paula Franzese of Seton hall University Law School to Moderate Panel Discussion on Eliminating Segregation in NJ
On Wednesday, May 16, 2018, Monarch Housing Associates in partnership with Seton Hall University Law School, the Anti-Poverty Network of NJ, and NJ Institute for Social Justice will host a Public Policy Forum on The Color of Law.
The Public Policy Forum keynote speaker and author Richard Rothstein will present the national research in his book, The Color of Law: A Forgotten History of How Government Segregated America, and take questions from the audience.
He lives in California, where is a Fellow of the Haas Institute at the University of California–Berkeley. He focuses on the forgotten history of how the U.S. government segregated America.
Prof. Paula Franzese, Peter W. Rodino Professor of Law at Seton Hall University Law School will moderate a panel consisting of:
This panel of New Jersey experts will engage in a discussion with the audience. The discussion will center around what can be done in New Jersey to combat and eliminate segregation in New Jersey's cities and towns and advance better Fair Housing policy.
Professor Paula Franzese is one of the country's leading experts in property law, housing reform, and government ethics.
Nationally renowned for her excellence in teaching, a recent book names Prof. Franzese one of 26 "best law teachers in the United States."
She has been named one of twenty Inspiring Women in Education by she knows media and has presented on education as a human right at the United Nations International Human Rights Summit, Youth for Human Rights and at various teaching summits and symposia across the country.
The author of numerous books and publications, Prof. Franzese's scholarship in the area of housing law includes critical examination of landlord tenant law, common interest communities, homeowners associations and the dilemma of privatization, the law of servitudes, exclusionary zoning, affordable housing, adverse possession doctrine and takings law, joining in the submission to the U.S. Supreme Court of an amicus brief in the Kelo case.
Her empirical work on the plight of low-income tenants facing eviction has been widely cited, garnering national attention, and her recent scholarship shines a light on the crisis in safe and affordable housing, spurring state and federal legislative reform efforts.Prof. Franzese has championed the right to counsel for low-income tenants facing eviction, spurred legislative reform efforts to end tenant blacklisting, and moderated fair housing programs with Pulitzer-prize winning author of Evicted Matthew Desmond and housing advocates.
Founded in 1951 and located in Newark, Seton Hall University School of Law is New Jersey's only private law school and a leading Catholic law school in the New York metropolitan area. Seton Hall Law is dedicated to preparing students for the practice of law through excellence in scholarship and teaching, with a strong focus on clinical education. The Law School also offers a robust selection compliance programs for law, graduate students, as well as mid-career professionals in the health, life sciences, and financial services sectors.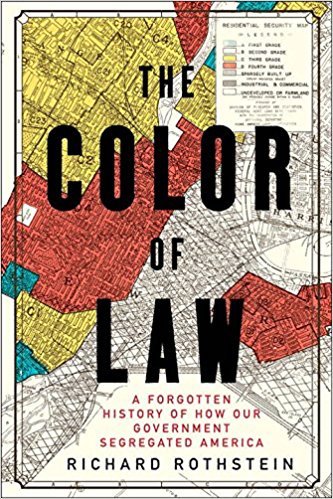 May 16th Forum on The Color of Law
Seton Hall University Law School
Subscribe to Our Newsletter for News You Can Use Everyday