450 Attend Congressional Reception on July 26, 2017 in Washington, D.C.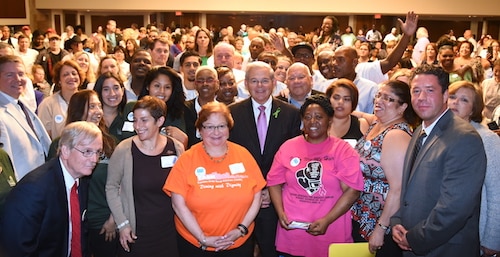 "No Cuts to Housing" Theme of Congressional Reception
The 2017 New Jersey Congressional Reception was held on Wednesday July 26, 2017 in the Dirksen Senate Auditorium on Capitol Hill in DC and more than 450 advocates attended.
The theme was "No Cuts to Housing." Cuts are hurting our communities that serve low-income families, the homeless and those with special needs.
The impact of sequestration and budget cuts has reduced the budget of the Housing and Urban Development (HUD) as well as other domestic programs. The lack of affordable homes and the resources needed to maintain existing public housing has created an affordable housing state of emergency in NJ.
The goal of the event was to bring a least 350 people to DC for the day. Both senators and all the members of the House representing NJ will be invited to attend and give brief remarks and it is hoped that they and their housing staff will attend the event.
We need your help as a partner or donor to make this possible.
Community Partners contribute $400;
Capital Partners contribute $800;
Organizations and/or individuals can donate to provide bus scholarships or to support the Congressional Reception.
Click here to contribute online.
The Reception's program will include:
An overview of the state picture and welcome the two senators.
An advocate from each Congressional district who will welcome the member of Congress and introduce two speakers – one who will speak about the impact of homelessness and a second who will talk about public policy issues in the district.
The speakers will discuss the benefits of HUD funded housing and the impact HUD funding cuts are having in their communities. All members from the district will be included in a group photo.
Staff from key national partner organizations such as the National Low Income Housing Coalition, the Center on Budget and Policy Priorities, Enterprise Communities and the National Alliance to End Homelessness will be asked to give brief national perspectives on the HUD budget cuts.
Buses to transport attendees to and from DC.
A boxed lunch and buttons.
Promotion through main stream and social media. The hashtags are #NJHillDay and #NoHousingCuts.
Infographics showing the impact of the budget cuts to key HUD programs will be provided.
Monarch Housing Associates has taken the lead in planning the event and in recruiting new and existing partners.
Click here for more information or if you have questions.

Subscribe to Our Newsletter for News You Can Use Everyday