Seven events will be held in NJ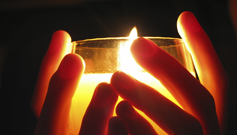 On December 21, 2010, at least seven Homeless Persons' Memorial Day events will be held in New Jersey. This date has been chosen as a time to remember all homeless people who died in the past year as a result of their lack of shelter or care. December 21 is the day with the least amount of light and has the longest night.
The NJ Advocacy Network to End Homelessness last year assembled resources that can be used in public worship over the sabbath weekend preceding December 21. To access this material click here.
This is the calendar of events. If we have missed an event or need to update any information let us know by clicking here.
County
Date, Time and Location
Sponsor(s)/Contact

Atlantic
December 21
3:00-4:00PM
Atlantic City Rescue Mission
2009 Bacharach Boulevard
Atlantic City , NJ 08401
Mission HealthCare –
AtlantiCare Health Services,
Jewish Family Service, Covenant House,
Mental Health Association,
Atlantic City Rescue Mission

Click here to register online.

Bergen
December 21
5:30-6:30PM
Bergen County Housing, Health and Human Services Center
120 South River Road
Hackensack, NJ
Bergen County Housing, Health and Human Services Center

Contact Person:
Julia Orlando

Camden
December 19, 2009
11:00am – 7:00pm
St. Paul's Episcopal Church
422 Market St.
Camden, NJ
Project HOPE

Contact Person:
James Comstock

Hudson
December 21, 2009
1 PM
Church of the Incarnation
68 Storms Avenue
Jersey City, NJ 07306
Jersey City Episcopal Community Development Corporation
and other groups.

Contact Person:
Joanne Smith

Mercer
December 21, 2010 10am Turning Point Methodist Church
15 South Broad Street
Trenton, NJ 08608-2101
Mercer Alliance to End Homelessness

Contact Person:
Tarry Truitt

Middlesex
December 21, 2010 – 5pm
Perth Amboy
Contact person:
Janelle Rodriguez
Ocean
December 21, 2010
Lacey United Methodist Church
203 Lacey Road
Forked River, N.J. 08731
5:30 PM – 8:00 PM
Journey To Wellness
Mental
Health Association
of N.J

Contact Person:
Cyndy Walters