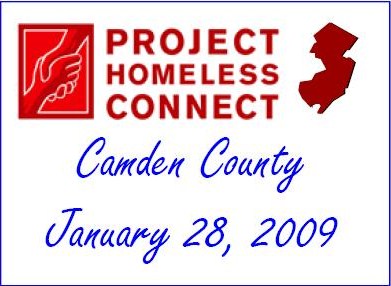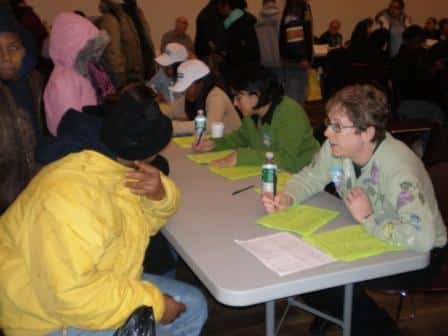 To view more pictures from Camden County's 2009 PHC event click here
Camden's Tent City homeless keep up hope
The Philadelphia Inquirer
By Matt Katz , Inquirer Staff Writer
The flashbacks and delusions seemed more vivid behind closed doors, so the Vietnam War veteran decided to spend the rest of his life outside.
Lorenzo "Jamaica" Banks found a patch of woods in downtown Camden – next to the Route 676 exit ramp, behind the Police Department and around the corner from Campbell Soup's world headquarters. He cleared out the syringes and put up a tent.

That was two years ago. Now there are 17 people, all invited by Banks, living in what's known around town as Tent City.

Banks, 56, is "mayor" of the makeshift village, which he oversees with a second-in-command – his "CEO," he says – who is in charge when Banks leaves to buy supplies. There are rules (including weekly tent inspections) posted on a bulletin board. The city of Camden even picks up the trash, neatly stacked in bags along the train tracks.
…
To read the full article click here
Homeless in NJ get counted; higher number expected
Newsday
By GEOFF MULVIHILL | Associated Press Writer
January 28, 2009
CAMDEN, N.J. – The streets of this city are a place people end up when their lives fall apart. And the people who live there say that in the rough economy, they are finding they have more neighbors.

They seem to keep coming," said 53-year-old Neil Floyd, who sleeps under a tarp in a wooded area near downtown called Tent City.

On Wednesday, officials were trying to gauge how many more.

Social service workers and volunteers set out across Camden and the state as part of a homeless count they complete most years. The results of the census, along with those being conducted in all 50 states this week, are forwarded to the federal Department of Housing and Urban Development.
To read the full article click here
Project Homeless Connect 2009
Cathedral Kitchen
1514 Federal Street, Camden NJ
11:00am ~ 3:00pm
For more information about Camden Project Homeless Connect 2009 contact:
Joanne Locke
Camden's 2009 Project Homeless Connect
cpm_viewRandomMediaFromAlbum (1,4,101);
$objCpm->cpm_close;
?>
Camden's 2007 Project Homeless Connect
cpm_viewRandomMediaFromAlbum (1,4,14);
$objCpm->cpm_close;
?>
Camden's 2008 Project Homeless Connect
cpm_viewRandomMediaFromAlbum (1,4,69);
$objCpm->cpm_close;
?>