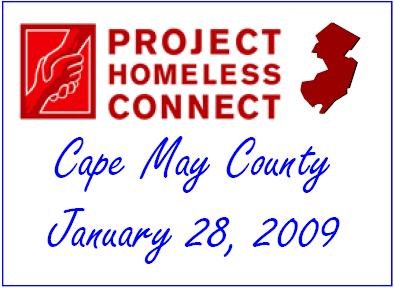 Project Homeless Connect Set for Jan. 28
Cape May County Herald
By Herald Staff
CREST HAVEN – Freeholder Gerald Thornton and the Department of Human Services announced on Thursday, Jan. 15 that on Wednesday, Jan. 28 from 10 a.m. to 2 p.m., the county will participate in the Project Homeless Connect (PHC) at First Baptist Church, 230 E. Maple Ave., Wildwood.

PHC is a successful homeless outreach program that began in San Francisco, California, and offers the community an opportunity to aid the homeless by providing much needed services and support.

During this one day, one stop event, social service agencies will provide information on topics such as housing, social security, veterans' services, food stamps and mental health services.
To read the full article click here
Project Homeless Connect 2009
January 28, 2009
First Baptist Church
230 East Maple Ave.,
Wildwood, NJ
9am ~ 4pm
Cape May County will hold its 3rd annual Project Homeless Connect event on Wednesday January 28, 2009. Building on the success of previous year's events, PHC 2009 will offer hot lunches, clothing and food, free blood pressure and cholesterol screenings and information from various agencies throughout the county including:
The Board of Social Services
CARA
Cape Counseling Services
Social Security
Cape Assist
PRAC
EIRC
South Jersey AIDS Alliance
DYFS
United Way
For more information about the upcoming PHC event contact:
County Department of Human Services 609-465-1055
Cape May 2009 Project Homeless Connect
cpm_viewRandomMediaFromAlbum (1,4,98);
$objCpm->cpm_close;
?>
Cape May 2008 Project Homeless Connect
cpm_viewRandomMediaFromAlbum (1,4,63);
$objCpm->cpm_close;
?>
Cape May 2007 Project Homeless Connect
cpm_viewRandomMediaFromAlbum (1,4,12);
$objCpm->cpm_close;
?>