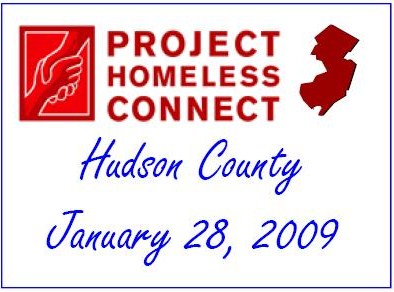 Hudson County PHC 2009 photos are now online. To view pictures from this event click here
HudCo Counts the Homeless
The Jersey City Independent
By Shane Smith • Jan 30th, 2009 • Category: Featured, News
Although the weather was wet and cold on Wednesday, the large auditorium at the Mary McLeod Bethune Life Center was bustling with activity as several hundred of Hudson County's homeless and needy accepted the invitation of a diverse group of service providers to come and be counted at an event called Project Homeless Connect.

Sponsored by a coalition known as the Hudson County Alliance to End Homelessness, the event went hand-in-hand with the federal Department of Housing and Urban Development (HUD)'s annual Point-in-Time Count. In order to qualify for certain federal funds, county service providers are required to carry out an annual survey of homeless residents. The survey collects data about total numbers of homeless, as well as about their use of available services and the circumstances that precipitated their homelessness.

Project Homeless Connect (PHC) helps the surveyors reach the homeless population by attracting them to a central location to be counted. The event also provides the homeless with a valuable opportunity to learn about the social services that are available to them, as well as to take advantage of giveaways of sorely needed clothing, food, and medical care. Representatives from nearly 30 nonprofit and government organizations were on hand to greet the attendees and answer their questions. Many groups handed out winter coats, shoes, and other clothing; some provided quick blood-pressure and cholesterol tests, HIV/AIDS tests, and dental exams; all distributed literature and educated people about their organizations.
…
To read the full article click here
Helping the homeless in Hoboken
Hoboken Now
by Carly
Tuesday January 27, 2009
We mentioned this a while ago, but here's a reminder that community service/social group Team Charity will be doing a Point-in-Time Count of Hudson County's homeless tomorrow night.

The yearly Point-in-Time Count records the number of how many homeless people are actually in Hoboken but also is a chance to gather information about their needs so the county and agencies will be better prepared to assist them. Team Charity is looking for volunteers to help them tomorrow night — they're meeting at the Hoboken Homeless Shelter (300 Bloomfield Street), Wednesday, January 28 at 6:30 p.m.

The count should last until about 10:30.
Project Homeless Connect 2009
January 28, 2009
Mary McLeod Bethune Life Center
140 Martin Luther King Blvd
Jersey City, NJ
10am ~ 2pm
Hudson 2007 Project Homeless Connect
cpm_viewRandomMediaFromAlbum (1,4,16);
$objCpm->cpm_close;
?>
Hudson PHC and Plan Completion
cpm_viewRandomMediaFromAlbum (1,4,61);
$objCpm->cpm_close;
?>