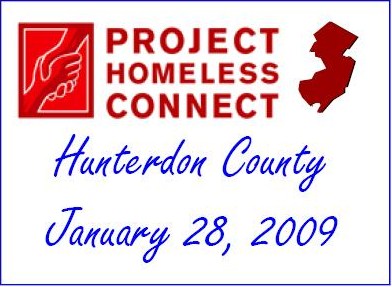 Census of homeless in Hunterdon tomorrow
Hunterdon County Democrat Staff
Tuesday January 27, 2009,
How many people are homeless in Hunterdon? Members of the county Comprehensive Emergency Assistance System Committee hope to find out tomorrow, Wednesday, Jan. 28 during the annual one-day, "point in time" homelessness survey.

The homeless must go to Flemington or Lambertville to participate. Project Homelessness Connect is designed to provide hospitality to homeless people and to link them with social service agencies and assistance. It's part of a state-wide effort to find out who is in need of housing and other services by attempting to count individuals and families here who are without a permanent residence.
…
To read the full article click here
Hunterdon groups look to survey county's homeless through project
By WALTER O'BRIEN • Staff Writer • January 27, 2009
HUNTERDON COUNTY —Community members will survey individuals and families without a permanent residence Wednesday in two county locations.

The Hunterdon County Department of Human Services and Hunterdon County Comprehensive Emergency Assistance System Committee will take part in Project Homeless Connect "Point in Time Homelessness Survey" from 8 a.m. to 8 p.m. Wednesday at the Interfaith Hospitality Network at Flemington Presbyterian Church, 10 E. Main St., Flemington and at Fisherman's Mark, 50 York St., Lambertville.

The survey is an anonymous tool that looks at the state of homelessness at a particular point in time as a snapshot of the homeless community. The survey consists of brief questions regarding issues such as family composition, services needed or currently being received and length of time without a permanent address.
…
To read the full article click here
Project Homeless Connect 2009
January 28, 2009
Flemington Presbyterian Church
10 E. Main Street
Flemington, NJ
8am ~ 8pm
Fisherman's Mark
50 York Street
Lambertville, NJ
8am ~ 8pm
Hunterdon County works to bring hope to the homeless through the 3rd annual Project Homeless Connect Event. This year's event features two sites with extended hours, allowing the county's homeless and at risk population the opportunity to access services and giveaways throughout the day.
Working with community partners, Hunterdon County will offer participants
toiletry kits prepared by New Hope Elementary School
Hand knitted hats and scarves prepared by local volunteer group
Coats and other donations provided by the United Way
Coats and Blankets
Information will be available from providers throughout the community.
To learn more about Hunterdon County's PHC events contact: