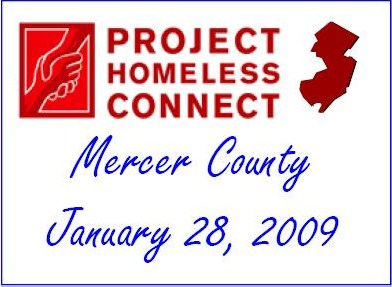 Housing First is a Success
More Applications to be Taken at Project Homeless Connect
Outreaching to the Homeless on Wednesday, January 28th
Trenton, NJ – On Wednesday, January 28th, 2009 Mercer County's Fourth Project Homelessness Connect will be held at Samaritan Baptist Church (513 M.L.K. Jr. Blvd. and New Rose Ave.) from 9am to 2pm. Project Homeless Connect is a one-day event designed to provide housing, services, and hospitality in a convenient one-stop model for people experiencing homelessness. At each of the past threes PHC events around 550 homeless individuals were served.
Housing First Applications will once again be accepted from the Chronically Homeless. Since last March, Mercer's Housing First project has housed a total of 17 people – 13 individuals and 4 families.
Housing First takes the chronically homeless off the street and assists them in getting their own home. Outreach social workers offer clients the opportunity to be part of this project. Under the Initiative, the homeless will be rapidly housed and provided the diversified support services they need to retain housing and address the issues that caused their homelessness. Research from across the country that shows Housing First to be a humane and cost-effective approach for ending homelessness for our most vulnerable citizens.
The Mercer Housing First Collaborative launched a $3 million Housing First Demonstration Initiative to provide housing for chronically homeless individuals and families, through a collaborative of city, county and state public and private funders. The Collaborative was formed to bring together the expertise and funding to implement this demonstration project in Mercer County. The following agencies are members:
NJ Housing and Mortgage Finance Agency
NJ Department of Community Affairs
NJ Department of Human Services
Mercer County Board of Social Services
City of Trenton
United Way of Greater Mercer County
County of Mercer
Corporation for Supportive Housing
Monarch Housing Associates
Mercer Alliance to End Homelessness
The success of Project Homeless Connect relies on community support—through the participation of local businesses, corporations, hospitals, doctors and a variety of other providers, this one-day event will positively affect the lives of many individuals who are homeless in Mercer County. "Bishop Joseph P. Ravenell has made it possible for this important event to be held in his church. Samaritan Baptist Church has been a model in assisting Trenton's Homeless." said Executive Director Herb Levine.
The event is taking place in conjunction with the HUD-mandated Point-in-Time Count of the homeless on January 28th, when the Trenton/Mercer Continuum of Care (a consortium of homeless service providers) will band together to count Mercer County's homeless. Holding Project Homeless Connect on the same day as the homeless count will allow Mercer County to reach out to and survey more of the homeless people in the community, while providing them with much needed services.
The Mercer Alliance to End Homelessness is a public-private partnership implementing a ten-year plan to end homelessness in Mercer County. Information gathered on the homeless on Wednesday, the 28th, will play an important role in our efforts. United Way of Greater Mercer County is the main sponsor of Project Homeless Connect. Additional sponsors of the event include: Trenton/Mercer Continuum of Care; City of Trenton; Mercer County; and Mercer Alliance to End Homelessness.
Participants Include: the City of Trenton's Human Services and Health Departments including the IMPACT Van; Mercer County's Board of Social Services, Department of Human Services and Veterans Services, and One Stop Centers; Rescue Mission of Trenton; United Way of Greater Mercer County; Greater Trenton Behavioral HealthCare; Federal Agencies: Social Security, Veterans; New Jersey HMFA; Henry J. Austin Health Center; Catholic Charities; Anchor House; Escher Street SRO; Matossian Eye Associates, Susan Ford, DC; Dr. C. Hoge, DDS; Mercer Street Friends; Womanspace; Salvation Army; Legal Services of NJ, Community Law Project; Capital Health Services-MICU; Planned Parenthood; Dunham Hall; HomeFront; The ARC of Mercer; Child Care Connection; Fantastic Sam's Haircuttery; Rutgers Cooperative; Federal Veterans Medical Service; Trenton Family Preservation House: Community Innovations; Princeton Monthly (Quakers), Princeton Friends School; St. Matthews Church; Notre Dame School; Craft Cleaners; and generous individuals.
Mercer County 2009 Project Homeless Connect
cpm_viewRandomMediaFromAlbum (1,4,103);
$objCpm->cpm_close;
?>
Mercer County 2007 Project Homeless Connect
cpm_viewRandomMediaFromAlbum (1,4,19);
$objCpm->cpm_close;
?>