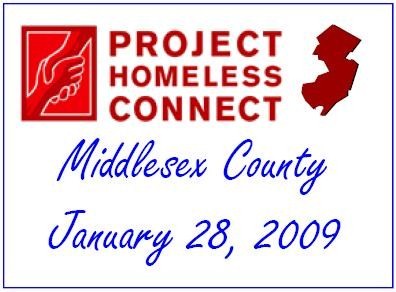 County, Community Partners
Put Homelessness in Spotlight
Launch Program to End Homelessness in 10 Years
Annual Survey of Homeless in County Conducted
Homeless People Put in Touch with Social Services
JANUARY 26, 2009 – Middlesex County and its partners in the private and non-profit sectors will launch Wednesday a 10-year plan to end homelessness in the County through an approach that provides housing to individuals first, then adds needed social services.
The plan, which will be unveiled 10 a.m. Wednesday at the Ozanam Family Shelter on Stelton Road in Edison, will be implemented by Coming Home of Middlesex County Inc, a new non-profit organization dedicated to ending homelessness in the County in 10 years. The housing first model enjoys an 85 percent success rate nationwide.
"The only way a community can end homelessness is if all sectors work together toward a common goal," said Freeholder Blanquita B. Valenti, chair of the County's Human Services and Aging Committee. "We in Middlesex County are blessed to have an incredible network of non-profit and corporate partners who share our vision and are ready and willing to make a difference."
Wednesday's launch comes about 18 months after the initial kick-off for the program, through which individuals and groups were invited to join the effort.
The co-chairs of the Coming Home of Middlesex County Board are:
Robert Mulcahy,
Elizabeth Hance Elizabeth Hance, President & CEO, Magyar Bank, New Brunswick
Mayor James Cahill, City of New Brunsiwck
Bishop Paul Bootkoski, Diocese of Metuchen
Gloria Aftanski, Chief Professional Officer, United Way of Central Jersey
Freeholder Valenti
"We expect this event to be a great success as a community-wide effort to help some of our most vulnerable Middlesex County residents and to assist us in obtaining the funding and knowledge we need to continue our efforts," Freeholder Valenti said.
The launch of the plan, which calls for permanent housing and a single-point of entry for homeless people seeking help, coincides with the annual Point-in-Time Survey and Project Homeless Connect.
The United States Department of Housing and Urban Development (HUD) requires that the Point-in-Time Survey be conducted by localities applying for funds for supportive housing for the homeless. The survey literally counts the number of homeless persons living in the county at a given moment in time.
The survey is coordinated by the Middlesex County Department of Human Services, Division of Social Work Services, through the Middlesex County Housing Continuum of Care (MCHC3) Committee of the Human Services Advisory Council.
To increase the accuracy of the survey and directly help the homeless, Middlesex County has, again, incorporated Project Homeless Connect (PHC) into this year's process.
This project supplements the survey, setting up two sites in the County for the homeless to visit and be connected with case management services, donations and information on resources, such as social services, HIV/AIDS care, mental health services, housing, substance abuse resources, disability funding, health care, etc.
Many volunteers from around the County will help these sites run effectively. The sites to be open are: Elijah's Promise Soup Kitchen, 18 Neilsen Street in New Brunswick, from 11 a.m. to 8 p.m.; and the Salvation Army, 433 State Street in Perth Amboy, from 11 a.m. to 7 p.m.
After the sites close for the night, a number of street outreach volunteers will travel to locations where the homeless reside to conduct additional surveys and to connect them with information on resources.
The homeless not reached in these ways should call the Homeless Hotline at InfoLine of Central Jersey, 888-908-4636 (toll free), where they can be surveyed and receive other pertinent information.
Coming Home of Middlesex County Inc. will post details of the County's survey and Project Homeless Connect on its new web site: www.cominghomemiddlesex.org.
The web site includes information on volunteering, the sites, flyers to encourage the homeless to participate, how to donate, etc.
For more information on the Point-in-Time Survey and Project Homeless Connect, please call Bridget Kennedy, Director, County Division of Social Work Services, at: 732-745-4228.
Middlesex County 2009 Project Homeless Connect
cpm_viewRandomMediaFromAlbum (1,4,104);
$objCpm->cpm_close;
?>
Middlesex County Ten Year Plan to End Homelessness Kick Off
cpm_viewRandomMediaFromAlbum (1,4,29);
$objCpm->cpm_close;
?>