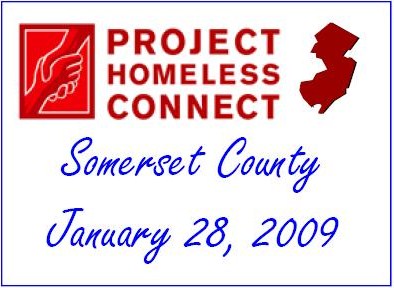 Project Homeless Connect 2009
January 28, 2009
SHIP Drop-In Center
87 East High Street
Somerville, NJ
10am ~ 1:30pm
Somerset County will host its 4th Project Homeless Connect event on January 28, 2009. With winter events held in 2007 and 2008 and a summer event in 2008, the 4th PHC event in Somerset County will feature an expansion of services and giveaways.
Partnering with the Visiting Nurses Association, PHC will offer attendees free flu shots, HIV/AIDS Testing and Blood Pressure Screenings.
In addition to free medical services, participants will enjoy beverages and snacks, free meal vouchers, food bags, clothing and toiletries. To assist individuals through the remainder of the cold winter, blankets, towels and cold weather accessories will be offered.
Participants will also be able to receive Housing and support services, counseling and treatment services and legal services.
For more information about the PHC 2009 please contact:
Community Development Office
908-541-5756
Somerset Street Count Locations
cpm_viewRandomMediaFromAlbum (1,4,15);
$objCpm->cpm_close;
?>